Taking Ultrasound Technology to the Patient at Guelph General Hospital
August 2021 Circle of Life Insider Update
This summer, we were grateful for the arrival of five new portable ultrasound machines funded by the Circle of Life Inner Circle members. Together, members contributed $350,000 to purchase this life-saving technology for Guelph General Hospital.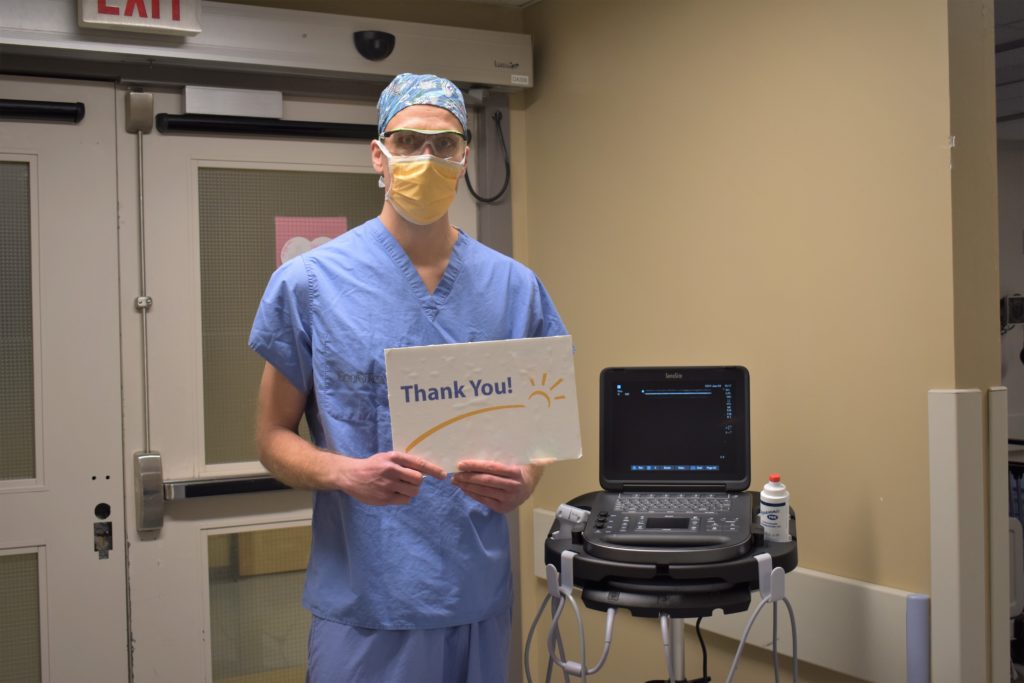 Dr. Lance Salmikivi, MBBS, FRCPC Anesthesiologist
At the 2020 Circle of Life Inner Circle cocktail party, held virtually last November, members gathered over Zoom to learn about three exciting and important opportunities to advance patient care at Guelph General Hospital. Hospital team members joined the call to pitch their proposals and answer questions about the priority investment opportunities, each with a huge impact to patients and caregivers. The choice was difficult, but come January, the votes were in! The purchase of five portable ultrasound machines for an investment of $350,000 was the winner.
Dr. Lance Salmikivi, one of our Anesthesiologists, pitched the ultrasound idea. He was overjoyed by the choice of members.
"This makes such a difference to how we care for our patients. These machines mean physicians and other health care team members can provide care at the bedside and receive information from the patients in real time. They are invaluable tools that will assist us going forward." – Dr. Lance Salmikivi
The portable ultrasound machines arrived in July, and are now being put to work in our Linamar Emergency Department, Bob Ireland Family Intensive Care Unit, Hasenfratz Ambulatory Care Unit, and Operating Rooms.
In the ORs, the portable ultrasound machines provide an alternative to general anaesthesia including regional anaesthesia, spinals and epidurals. They are also used during vascular surgery to access veins and arteries, enhancing Guelph General Hospital's role as the regional vascular surgery centre.
In the ED and ICU, the machines help our caregivers to rapidly insert central lines into large veins to deliver medications and fluids, or to quickly diagnose critical illness, such as a leaking aneurism. This allows treatment to begin immediately for patients resulting in better outcomes and faster recovery.
Lastly, in Ambulatory Care, the unit is used to help provide care for patients undergoing cancer treatment and those who are being treated by one of our vascular surgeons.
We are grateful to our donors for making this important priority project become a reality.
Thank you to 2019-2020 Circle of Life members for making life saving care possible at Guelph General Hospital.
Dr. Lance Salmikivi in an Operating Room with one of the portable ultrasound units