Charity Yard Sales Raises $1,000 for Guelph General Hospital.
Recently, an enthusiastic group representing the Bangladesh and Bangla speaking community dropped by to present the proceeds from their Charity Yard Sale.
 "It was an easy decision for us to select Guelph General Hospital as the beneficiary," said Shibabrata Nandi, at whose home the yard sale took place. Many members of the community have had personal experience receiving care at the Hospital and all agreed that their event was a good opportunity to help ensure the same excellent care for others throughout the entire community of Guelph.
The group organizing the yard sale represented about 125 families in Guelph. Many of them contributed to the yard sale by donating sale items, helping to organize the sale, or by helping out on the day of the sale.
The initial idea was conceived by a fiercely persistent few who had a strong desire to do something for their community. It was Fahmida Rahim, Tishi, Shibabrata Nandi, Masud Jamal, Motiur Rahman Shobuj, Shisheer Meetro and Fazlul Karim who presented their idea about a year ago and were successful in rallying their community to participate.
The concept of a yard sale was new to most in their group as it is not something that they do in their culture, but they all embraced the idea of doing something that was more customary to Canadian culture.
With the help of many, including a bit of guidance from Shibabrata's Canadian-born neighbours, and despite a heavy rain fall that blew through the evening they were setting up all the sale items outside, they succeeded at hosting the loveliest of all yard sales.
More than yard sale, it was also a community gathering. Shibabrata opened up his gardens for all to enjoy. Laid out on a table were traditional Bangladesh foods prepared by some of the event organizers and all around small circles of friends gathered in conversation. People were invited to harvest home-grown vegetables in exchange for a donation to the Hospital.
At the day's end, $870 was raised. The proceeds were raised from sale items, donations, and from the sale of lemonade by the children who were delighted to be a part of the event. Eager to reach a goal of $1,000, Fazlul Karim and Rakhal Sarker who had been closely involved with the initiative from the beginning, took the lead of inspiring donations from the Bangladesh community in the week that followed the sale.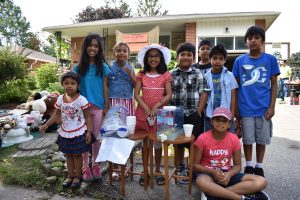 At the presentation of the funds, Masud expressed what he really hopes for is that others are inspired to collaborate with their neighbours or community groups to organize their own charity yard sale.
Guelph General Hospital may appear as just "bricks and mortar," but as Suzanne Bone, the Foundation's CEO describes it through her lens of 26 years at the Foundation, "our Hospital is about people – the people we care for, the people who provide the care, and the people who support those who provide the care – including our donors.  It's a diverse community coming together to support a common goal of the best possible patient care for our community."
They hope to make their yard sale an annual event and have already started planning for 2018.
In the picture featured at the top of the page: Motiur Rahman Shobuj, Shibabrata Nandi Dulal, Raj Moharaj, Chitra Tinku Sarker, Ruma Chakravorty, Pushpita Kabir, Rowshan Karim, Deb Mukherjee, Jharna Nandi, Rita Biswas, Kabbyo Sarker, Biswajit Sarker, Riya Roy, Fahmida Rahim Tishi, Kotha Sarker, Masud Jamal, Rakhal Sarker, Fazlul Karim and Linda C.
A special thank you to the leading volunteers Fahmida Rahim Tishi, Motiur Rahman Shobuj,Masud Jamal, Paritosh Roy, Shishir Mitra, Biswajit Sarker, Raj Moharaj, Apu Dey, Soma Biswas, Bristi Biswas, Rakhal Sarker, Tom Abrams, and Tammy. And another very special thank you to Fazlul Karim for his leading inspiration.