New Faces at The Foundation of Guelph General Hospital
It's been a busy few months with comings and goings at the Foundation. This past spring, we said good-bye to three staff members who decided to pursue new career opportunities. "It was certainly a big change! For a while, it was like we were back in the early 2000s with just Debbie, Linda and myself" said the Foundation's CEO, Suzanne Bone.
We are now thrilled to introduce you to our new team (and, of course, remind you of the rest of us that are still here!) Joining our team are:
Rob Cameron, Senior Development Officer, Major Gifts.
Rob joined the Foundation in July, bringing a great mix of experience from private sector roles in the management and sales of laboratory products and IT services.  After attending University of Guelph, the community soon became home for his fast growing family: his wife, Paula and their kids, Jessie, Holly, Jack and Cole. In 2008, the Cameron family gave back to the community by starting a yearly charity event called "Holly's Heart" in memory of their daughter, raising funds for both SickKids Hospital in Toronto and the Guelph Wish Fund for Children. A quote that Rob tries to live by is "If you can't find your purpose, find your passion and it will lead you to your purpose" (T.D. Jakes). Rob looks forward to helping the team find friends and funds for Guelph General Hospital.
Lori Muzak McComb, Senior Development Officer, Major and Planned Gifts.
Lori is the newest member of the team, joining the Foundation in August 2016. She brings with her over 12 years of senior fundraising experience, mostly in healthcare. Prior to this Lori managed marketing, communications and member service in the co-operative Credit Union system. Lori's responsibilities include both our major gifts and planned giving programs. Lori will be the staff resource for our Philanthropy Leaders Cabinet and looks forward to working with our volunteers to deepen our community and donor relations, and also engaging the local allied professionals in our fundraising efforts. Lori is also an active volunteer and Director of the Board at Healthcare & Municipal Employees Credit Union, currently serving on the Audit and Risk Committee as well as the Recruitment/Nominating Committee.
Robyn Patrick, Office Assistant
Robyn is a dynamic individual who is willing to take on just about any task thrown her way. It is these characteristics that make her so great at providing support for the entire FGGH team. Robyn started at the Foundation at the beginning of May as a Summer student and is now providing part-time support while she continues on with her University studies, pursuing her Bachelor of Commerce with a major in Marketing. Robyn enjoys working at the Foundation because she feels that the work we do here helps so many people in our community and she loves contributing to that.
Elizabeth Stewart, Marketing Communications Specialist
In this role, Elizabeth strives to strengthen communications to donors and prospective donors so that they are fully aware of the impact of their support at GGH. Elizabeth is a proud and involved member of the Guelph community and enjoys contributing in ways that make Guelph an even greater place than it already is. Elizabeth actually started with FGGH as a Tour de Guelph volunteer where she assisted with fundraising communications. She also recruited her own Tour de Guelph team that raised over $3,000 for the Hospital and local and international Rotary projects.
Rob, Lori, Robyn and Elizabeth join Suzanne Bone, Linda Craig and Debbie de Boer who between them, have worked at the Foundation for an amazing 61 years!
Linda drives our Annual Giving program, spearheading mailings and events that raise more than half a million dollars each year. Debbie continues to be a backbone to our busy office, processing all donations and keeping donor information accurate within the donor database. Suzanne, as our CEO, works with the Foundation and Hospital staff teams, our volunteers, and our amazing donors to ensure we fulfill our purpose of saving lives and improving health.
A common characteristic amongst all our staff is their desire to put their skills to work in an organization that helps them make a difference within their community. It's great to come to work each day and know you are helping make Guelph a healthier place to live.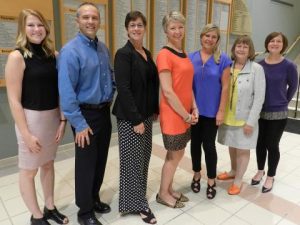 From left to right: Robyn Patrick, Rob Cameron, Lori Muzak McComb, Suzanne Bone, Debbie de Boer, Linda Craig, and Elizabeth Stewart.
If you are in the neighbourhood, please stop by – we'd love to say hello!