Black Tie Bingo
The Foundation of Guelph General Hospital's 27th annual Black Tie Bingo, presented by Co-operators and Meridian Credit Union, returned to an-in person event on Saturday, March 4th at The Grand Guelph, with over 400 sponsors, guests and volunteers taking part.
It is with immense gratitude that we announce that together, the Guelph community raised a total of $484,000 for our local Hospital! These funds will help Guelph General Hospital to act quickly on emerging surgical equipment needs.
This success shatters fundraising records and it was all made possible thanks to many individuals and organizations in our community. We would like to thank all of our sponsors, ticket purchasers, partners, in-kind contributors, guests, prize donors, volunteers and donors for your support. Every piece of equipment used in the direct care of patients at Guelph General Hospital is funded by community donations, so we truly couldn't do it without you.
We would like to give a special thank you to James Hutton from Hutton Forest Products. Inspired by the kindness of the Guelph community and in honour of his parents who passed away during COVID, James agreed on the night to increase his matching gift from $100,000 to $150,000 for the Hutton Match. A total $117,252 was donated by community members and guests leading up to and at the event, and up to the extended March 8th match deadline. Later, James' generosity confirmed that he would proceed with the full $150,000 donation – a remarkable contribution to GGH!
This year's Black Tie Bingo was another momentous illustration of the power of our community. Together, we are transforming healthcare through giving. Thank you.
---
Donor Listing
Thank you to all the generous community members and guests that made a donation leading up to the event, at the event, and following the event. Collectively, you gave $117,252 to Guelph General Hospital!
Albert and Margaret Abbink, Andrew Anderson, Andrew Arklie, Cameron Baker, Laura Barlow ,The Barzotti Family, Charleen Bennett, Suzanne Bone, Randy Boyd, Doug Bricknell, Julia Bricknell, Julie Byczynski, Gwen Chapman, Joy Chhina, Ariana Christie, Dean Coates, Jen Colvin, Jane Colwell, Co-operators, Rick Costanzo, Regan Cox, Stephen Crann, Karen Cressman, Heather Cross, Jennifer Duggan, Josh Durette, Catherine Embree, Michael Finkbeiner, Shawn Fitzgerald, Emily Frasson, Copeland Frasson, The Frasson Family, Connor Fulton, Justine Gaskell, Lisa Gazzola, Shawna Geer, GGH Radiologists, Thomas Graham, Glyn & Maureen Griffiths, Guelph Manufacturing Group, Rachel Guthrie, Lori Halliday, Jasmine Harbin, Sean Henry, D Holmes, Miro Karaaslan, Khalil Khamis, The Kirby Family, Nicole Kucherenko, Katharine Lammer, Kyle Langille, Amber Langille, Daniela Lewis, Andrew Long, Lloyd Longfield, Alex Madott, Aman Mander, Mellissa McDonald, Ken McDougall, Scott McRoberts, Graham Miller, Jason Moreton, Hailey Muir, Peter Namis, Dominique O'Rourke, Paul Osborne, Matt Peltomaki, Jorge Pineda, Russ Powell, Khatera Rashidi, Andrew Raymond's, Crista Renner, Kevin Reynard, Krista Ricciatti, Paul Richardson, Denise Rishworth, Alicia Robertson, Emma Rogers, Maria Roman-Bricknell, Mike Schreiner, Terry Scroggie, Paula Smith, Rick Standish, Judy Steele Elizabeth Stewart, Aditya Vasudev, Shirley Watson, Tim Wideman, Sue Wideman, Kathy Wilkie, Adrian Wilkinson, Barbara Wood, David Wood, Beverly-Ann Woods, Montana Woolford-Browne, Edwin Wyse, Juliette Zhang, Anonymous donors (17)
---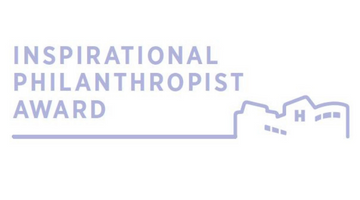 Join us in celebrating our inaugural recipients!
The Inspirational Philanthropist Award was established by The Foundation of Guelph General Hospital to recognize the outstanding community members who have furthered its mission, vision and values.
This special honour celebrates an individual, family or organization who has demonstrated an abiding commitment to Guelph General Hospital as well as the wider community through their exceptional contributions through business, volunteerism and/or philanthropy.
Inaugural recipients of The Foundation of Guelph General Hospital's Inspirational Philanthropist Award, John and Barbara Wood, demonstrated outstanding contributions through business, philanthropy and volunteerism in support of Guelph General as well as the wider Guelph community.
To read the full article click here.
---
Event Photos!
Thanks to in-kind contributors, D3vi Photography and Teacup and Saucer Photo for capturing these special moments!
Click here to see the event gallery.
---
Thank you to our generous sponsors!
For more information on sponsorship please email Elizabeth Stewart, [email protected] or call 519-837-6422.
PRESENTING
GOLD
SILVER
BRONZE
SUPPORTER
Barry Cullen Chevrolet Cadillac Ltd.
Paladin Security
Triumph Tool Ltd.
CULINARY & EVENT PLANNING PARTNERS
CREATIVE & GRAPHIC DESIGN PARTNER
DÉCOR PARTNER
AUDIO/ VISUAL PARTNER
PRIZE SPONSORS
IN-KIND PARTNERS & CONTRIBUTORS
Eagle's Flight – Program Print Partner
GuelphToday.com – Media Partner
Ryan Walker Photography – Videography Partner
Contributors: D3vi Photograph, Red Brick Cafe, Spring Mill Distilleries, Tea Cup and Saucer Photo
PRIZE DONORS
Acqua Salon
AFYA Skin & Body Clinic
Alison Davidson/ Davidson Carlson Family
Altesse Cashmere
Art of Denim/ Sidonio's for Men
Atmosphere
Bruce Barker
Buon Gusto
Caudle's Catch
CD Designs
Ceramic Decor
Charcoal Steakhouse
City of Guelph
1460 CJOY Radio
Cory Young Insurance Group Inc.
Danby Products Ltd.
Dietrich Getaways
Downtown Guelph Business Association
Dr. John Pate/ Westwood Dental
Elora Mill
Frameworth Sports
Fusion Hair Studio
Guelph Storm
Harmony
Hockey Hall of Fame Resource Centre
Hutton Forest Products
Jim Estill
Kevin Shea
Knar Jewellery
Laura Wombell Pet Photography
Live Nation Canada
Manor Landscaping and Property Maintenance
M.B Laser Clinic & Spa
Market Fresh
Mezcon Construction Ltd.
Orange Theory Fitness
Pursuit Athletics Centre
Red Car Service
Reid's Heritage Properties
Rob Gray
ROM
Sarmazian Brother's Flooring
Sleeman Breweries
Spring Mill Distillery
Stone Road Mall
Sundance Balloons
The Keg Steakhouse
The Neighbourhood Group of Restaurants
Toronto Rock Lacrosse Club
Universal Music Canada
Vongue Art Photography
Wayne Pitman Ford
WestJet